Auld Goonsy Single Cask Bottlings
Auld Goonsy is an old-timer with a deep passion for whisky and a wealth of knowledge and experience in the industry. Having spent many a year in bonded warehouses and distilleries throughout Scotland, Auld Goonsy and his friends have collectively selected special single cask bottlings that they think are perfect to put in a bottle. They strive to find unique, exciting, and affordable whiskies that will tantalize the taste buds.
The main theme of the range is single cask bottlings where the panel of 'auld yins' select the cask then have it bottled (many think they enjoy their job far too much as they seem to sample too many casks before selecting the 'special one'). Auld Goonsy is a real character with many a story to tell, and his range has no less. Its spans across all different styles and forms of whisky and he would be disappointed if you didn't look.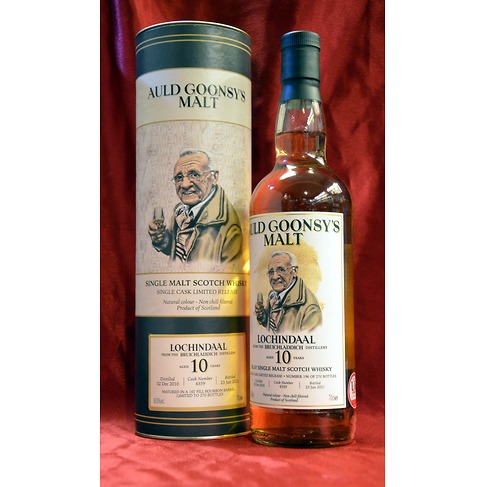 First Fill Bourbon Barrel 4359 Dist: Dec 2010 Btl: 2021 Tasted: Sept 2021 An intense, gritty and oaky nose. In fact it almost smell like tannic French oak. Hints of honeysuckle, vanilla, citrus, banana, apricot, salt, marzipan, malt, barley and more salt. It's robust and oaky but the spirit stands up to it well. Late earth and subtle peat, which is surprising considering the barley was peated to 50ppm..
Intense and oaky start to the palate, with again some almost French oak tannins. Apricot, apple, honeysuckle, malt, barkey, vanilla and toffee follows. The palate display more peat than thee nose suggests but the oak is really holding it in check. Earth, wood spice, tar, dark fruit and gritty tannins and peat on the middle. Masked, gritty, tannic, alcoholic and peaty finish, which is so, so salty, it almost sucks the moisture from your mouth. marzipan and vanilla after-taste.
Water makes the nose more restrained and emphasises the white fruit, lemon and fresh, coastal notes, less oak and less peat, but wonderfully vibrant. The palate is also softer, maltier and buscuitier. Again there's less oak and more youthful spirit character. It has a burly, fishy, Springbank-esque middle and a long, oily, cereal and subtly earthy finish.
In stock - only one bottle remaining
£167.46
Be the first to hear about new bottlings, limited editions, offers and our whisky tasting events
Join thousands of other whisky lovers & subscribe to get all the news from Gauntleys, our latest offerings & whisky events