Carn Mor are, quite rightly, considered to be one of the best of the independent bottlers around, always managing to sniff out something rare and exceptional. As an off-shoot of Morrison & Mackay, Carn Mor do have access to some exceptional malt whiskies, but it is not solely limited to the Morrison & Mackay portfolio.
Single casks bottlings, by their very nature, are one off's never to be repeated. It is fair to say that not every cask will be exceptional, with many falling into the 'distinctly average' category, however, some casks will stand head and shoulders above many of their siblings and deserve to have their moment of stardom!
It is to this end that Carn Mor created the 'Celebration Of The Cask' range. Exceptional whiskies, bottled at cask strength, not chill filtered and not coloured up with caramel - just as nature intended. Each bottling is finite too, with some being as few as 180 bottles produced so you will need to be quick! The good thing about the Carn Mor 'Celebration Of The Cask' range is that it is not exclusively single malt whisky, as we have a single grain whisky in the guise of Invergordon and we have a blended malt whisky called Wardhead.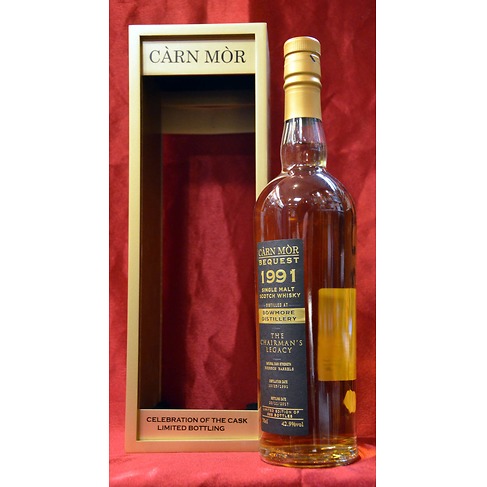 Bottled for the retirement of Brian Morrison Dist: May 1991 Btl: Nov 2017 Tasted: Dec 2017 Fresh and coastal with that classic mature, dusty peat character with hints of oily barley, violets, baked fruit, fresh vanilla and hints of sweet barley. Elegant and poised!
The palate is wonderfully vibrant and fresh with apricot, white fruit and dusty, mature peat. It fills out well on the middle as the oils arrive and the peat becomes more pronounced and violety. Lightly fishy and salty middle with a touch of vanilla. Long and full with lingering barley, violets, peat briquettes, tar, soot and oily fruit.
In stock
£348.75
Be the first to hear about new bottlings, limited editions, offers and our whisky tasting events
Join thousands of other whisky lovers & subscribe to get all the news from Gauntleys, our latest offerings & whisky events