Old Perth was historically a blend of Speyside, Highland and Islay malts along with North British grain, aged up to 12 years. All the constituents are aged between four to six years to create an approachable, sweet and 'moreish' dram. With a wide range of expressions, there's plenty to dive into with the Old Perth blended malt scotch whisky. Furthermore, there's still a lingering stigma around blended whisky to this day (in fairness it's justified in many respects) but if you try the Old Perth I can assure you that stigma won't be lingering anymore.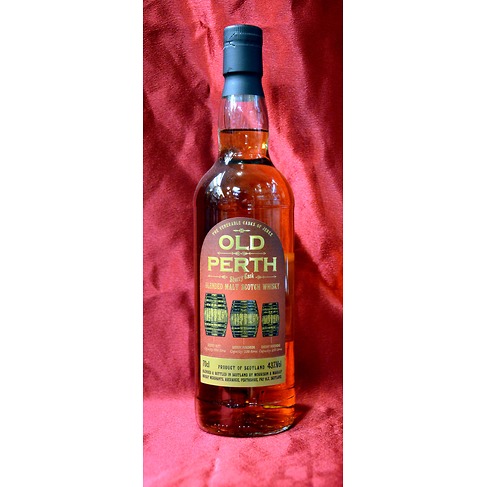 5 year old Glenfarclas teaspooned with Inchgower Tasted: Dec 2019 The nose is crisp and fresh with apple, pear and peach along with subtle sherry and dark almost rye-like spices. Very well balanced and I would assume predominantly refill sherry casks as the sherry influence is quite light and doesn't dominate.
The palate opens with fresh barley and hints of earth and straw. Lightly estery with a touch of rye-like spice, grippy oak and sherried dried fruit. Again well balanced and long with hints of coal dust on the finish. Considering which distillery it comes from there is a distinct lack of industrial notes!
In stock
£30.29
Caol Ila, Ardmore, Croftenga and Bunnahabhain Staoisha Tasted: Dec 2019 The nose is ashy, tarry and meaty with loads of sweet fruit and barley. Lightly salted with a touch of crisper white fruit, medicinal peat and honey. With time a touch of lightly metallic green fruit.
The palate opens with the sweet barley, white fruit and ashy peat. Subtly salt and medicinal peat comes through on the middle. Overall it is pleasantly full and robust with a long, fresher, more citric finish with lingering whiter fruit, tangerine and lime. Lightly malty and coffee'd after-taste.
In stock
£30.29
Be the first to hear about new bottlings, limited editions, offers and our whisky tasting events
Join thousands of other whisky lovers & subscribe to get all the news from Gauntleys, our latest offerings & whisky events