Old Perth was historically a blend of Speyside, Highland and Islay malts along with North British grain, aged up to 12 years. All the constituents are aged between four to six years to create an approachable, sweet and 'moreish' dram. With a wide range of expressions, there's plenty to dive into with the Old Perth blended malt scotch whisky. Furthermore, there's still a lingering stigma around blended whisky to this day (in fairness it's justified in many respects) but if you try the Old Perth I can assure you that stigma won't be lingering anymore.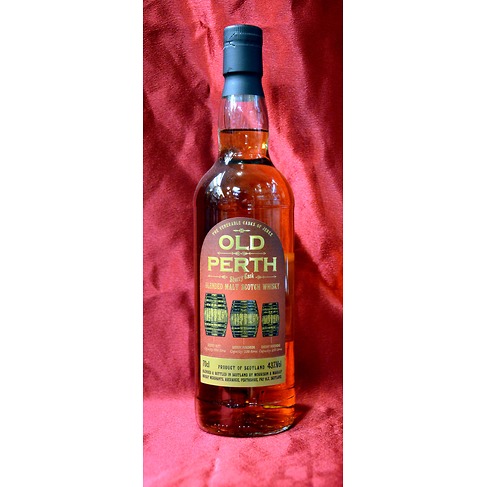 Tasted: Jul 2020 The nose is quite well balanced with plenty of barley character and fleshy white fruit. The sherry doesn't overwhelm the nose and adds a touch of dried fruit, spice and treacle.
The palate displays more sherry character. Soft and fleshy with spice, treacle and hints of barley. The middle is quite treacly and winey with building dried Oloroso fruit and citrus. Long and mineral with a touch of spirit and spice in the finish.
Watch my review on episode 372 of the Good Dram Show - https://youtu.be/ZCvGMyWJ9VQ
Temporarily out of stock
£30.29
Caol Ila, Ardmore, Croftenga and Bunnahabhain Staoisha Tasted: Dec 2019 The nose is ashy, tarry and meaty with loads of sweet fruit and barley. Lightly salted with a touch of crisper white fruit, medicinal peat and honey. With time a touch of lightly metallic green fruit.
The palate opens with the sweet barley, white fruit and ashy peat. Subtly salt and medicinal peat comes through on the middle. Overall it is pleasantly full and robust with a long, fresher, more citric finish with lingering whiter fruit, tangerine and lime. Lightly malty and coffee'd after-taste.
Temporarily out of stock
£30.29
Be the first to hear about new bottlings, limited editions, offers and our whisky tasting events
Join thousands of other whisky lovers & subscribe to get all the news from Gauntleys, our latest offerings & whisky events