Sullivan's Cove - Tasmanian Whisky
Sullivans Cove Distillery was established in 1994 at its original location at the old brickworks at Sullivans Cove, making it the second oldest whisky distillery in Tasmania. In the early days, the reputation of Sullivans Cove was poor to say the least, but in 1999 new ownership vastly improved the quality of the whisky being produced.
In 2004, the distillery moved to its current location in Cambridge and our current head distiller Patrick Maguire took over distillation and cask selection. By 2007, Sullivans Cove started to gain international recognition with our American Oak winning Best Other Malt (whiskies outside of Scotland) at the World Whiskies Awards and Liquid Gold (95/100) in Jim Murray's Whisky Bible.
In 2014 when our French Oak cask HH0525 was named Best Single Malt Whisky in the World by the World Whiskies Awards, both our little distillery, and the Tasmanian whisky industry as a whole, shot to international acclaim. We've been trying to keep up ever since. With a new generation of keen young distillers now bringing their passion for Tassie whisky to the table, Sullivans Cove continues as Australia's premier single malt whisky distillery.
Sullivans Cove American Oak Single Cask is our most awarded expression, and in 2018 it was awarded the World's Best Single Cask Single Malt at the World Whisky Awards.
All info above quoted from Sullivan's Cove with thanks.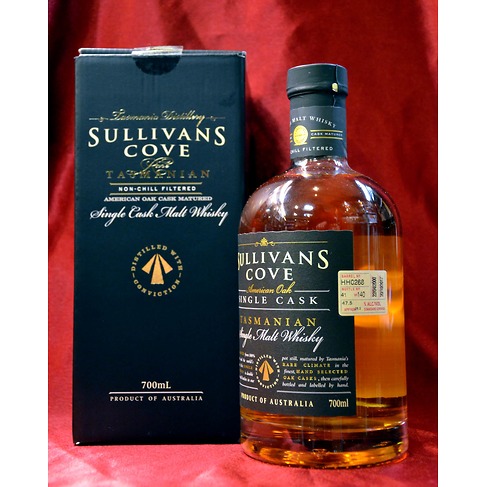 Nose: A lovely, aromatic nose of white chocolate coated banana, toffee and flesh Speyside-esque apricot and white fruit. With time hints of lime and greengage.
Palate: Shows a little more toffee'd oak and oily spirit character. Distinctly Bourbon matured with plenty of wood spices. The fruit is rather buried by the oak though.
Finish: Good length with the oak subsiding allowing the barley, fruit and malt to come through. (Tasting note from 2018 World Whisky Awards - HH0351)
In stock
£284.38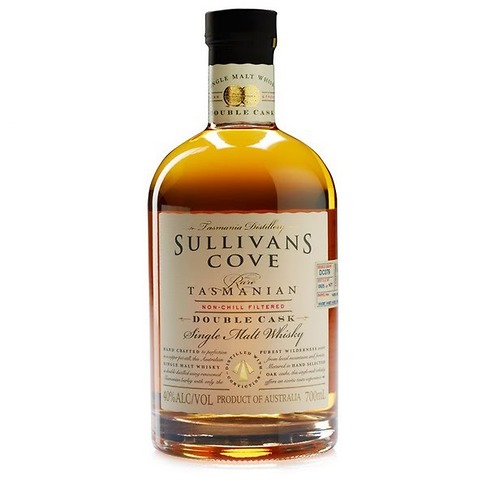 American & French Oak Tasted: Feb 2018 Nose: Aromatic and estery with banana, apricot and a touch of toffee'd oak. Quite oak influenced but pleasantly balanced by a subtle citrus minerality, with time hints of heather and grippy wood spices.
Palate: The palate is fresher and more citric as there is less oak. It also allows the generous depth of apricot, banana and pineapple fruit to show. Gently spiced on the middle.
Finish: Long with the oak returning, but the estery fruit lingers.
Conclusion: Superbly complex and balanced. (Tasted for the 2018 World Whisky Awards - DC087)
Temporarily out of stock
£159.81
Be the first to hear about new bottlings, limited editions, offers and our whisky tasting events
Join thousands of other whisky lovers & subscribe to get all the news from Gauntleys, our latest offerings & whisky events